Teacher
High School - College - Private Instruction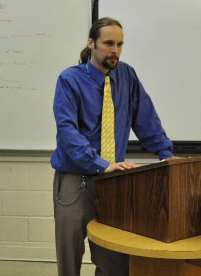 I am a dedicated teaching artist who focuses on creating a safe environment where my students can grow as artists and individuals. I currently spend as much time in the classroom as I do on the stage.
Credentials
Masters in Education from Loyola College (focus on curriculum design and development)
Masters of Fine Arts in Acting from Columbia University
Teaching certificates in Theater and English Literature in Maryland and New York
Former Adjunct faculty member at Teachers College at Columbia University and Queens College
Served as camp director of Grace Outside The Box Arts Camp
Member of the Association for Theatre in Higher Education
Has been a member of the following educational theater companies: the CM Day Players and the Broadhallow Day Players
Currently runs the theater depeartment at Fox Lane High School.
Recommendations


"He is a creative teacher who inspires students to excel. Tom is a fine teaching model. Tom has keen knowledge of the best current educational practices and philosophy. To his credit, he has a personal philosophy that is consistent with his perspectives on teaching. His ability to decipher the essence of what constitutes the teaching for and learning of critical thinking skills sets him apart from many teachers."

- Dr. Lenore Pogonowski, Columbia University

"Mr. Slot's songwriting workshops were a great success with my seventh and eight grade students...He has an exemplary knowledge of computer, recording, and performance technology, and his demeanor with the students was patient, kind, supportive, and humorous... Mr. Slot exemplifies the best of the education and performing worlds by combining creative teaching strategies with professional performance experience as well as an overall professional demeanor including prompt and open communication. I would strongly recommend, without reservation, Mr. Slot as a teaching artist, musician, and performer for future school workshops!"

- Scarsdale Middle School Music Department

"The stage combat workshop was exciting and engaging for myself and students! Practical and informative, the workshop is a creative solution to the curriculum in drama. It has been a few weeks now and my students continue to be engaged with the techniques for stage that they were taught. A thumbs up performance and instruction!"

- West Windsor-Plainsboro High School North Drama Department