Musician
Musician Biography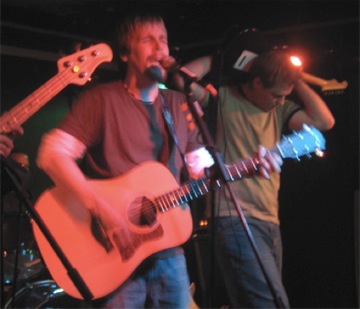 Music has always been an important part of my life. Growing up, I was initially inspired by rock and roll acts like Bruce Springsteen, The Band, Bob Dylan, Counting Crows, and The Rolling Stones. I started playing guitar, piano, and drums in high school. Shortly thereafter I found my singing voice and started writing original music. I have always been intreted in storytelling in all its forms, and music was just one more way of exploring these stories. I've always been inspired by artists that mix raw emotion and lyrical imagery in their sound. That's what I wanted to do in my music. I'm not looking to take over the world with my music. I just want to write songs that reach the listener at their core.
In my late teens, I moved to Baltimore and started playing in a number of local bands. Over the years that followed, I earned a reputation as a clever songwriter and energetic lead singer while touring with What About Jon?, The Tom Slot Band, and later, Page Six. My musical ability grew as I performed hundreds of shows up and down the east coast appearing at colleges, clubs, and festivals. With stops at historic clubs like CBGBs and opening for national recording artists like The Getaway People, I had plenty of time to hone my chops as a singer, performer, and songwriter.
In the summer of 2006, I left Page Six and moved to New York City where I took a break from playing music while studying acting at Columbia University. The time off provided me with a chance to reflect on my music, and when I started playing again a year later, I decided to start from scratch. I put aside my older original music (over a hundred copyrighted songs) and began writing all new material that reflected both my newer musical tastes and my personal growth since moving to New York. Some of this new material was featured on a solo EP "Another Place I Can't Go Back" that I released in August of 2007. This recording was followed up with the 2009 release of the Suicide Kids soundtrack. I currently split my time between music, acting, and teaching.
You can download a number of my original songs here.