Runner

"It's very hard in the beginning to understand that the whole idea is not to beat the other runners.
Eventually you learn that the competition is against the little voice inside you that wants you to quit."
- George Sheehan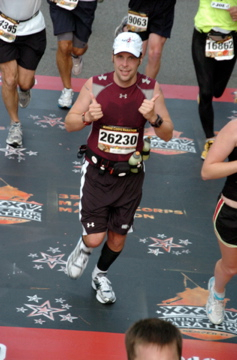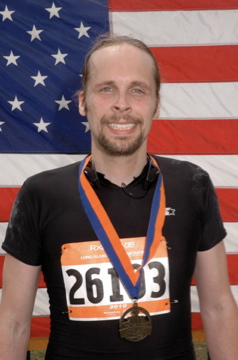 I'm an enthusiastic runner when not performing or teaching. Running is a great sport that anyone can take part in no matter how old or young they are. I have completed several marathons, but my favorite distance to race is the half-marathon. It's less taxing, and you don't have to rest as long between races.
Part of what attracts me to running is the community spirit of the sport. I've never participated in any other athletic pursuit where everyone is so supportive of each other. Many times I've raced along strangers that over the course of the race became friends. There is something in the sport that brings out the best qualities in each of us. That spirit is illustrated in the video below where a West Liberty-Salem runner helps carry a struggling Arlington runner who collapsed just short of the finish line at the DIII 3200 meter race at the OHSAA state track meet at Jesse Owens Stadium in Columbus on June 2, 2012. The West Liberty-Salem athlete finished first in the 1600 meter race earlier in the day. She was running in last place in the 3200 meter race when she approached her opponent struggling to pick herself up from the track on the home stretch. Without hesitation, she scooped her competitor up and wrapped an arm around her shoulders.
PERSONAL RECORDS


4K - 16 Minutes, 55 Seconds
5K - 20 Minutes, 40 Seconds
5 MILE - 37 Minutes, 53 Seconds
Half Marathon - 1 Hour, 36 Minutes, 46 Seconds
Marathon - 3 Hours, 51 Minutes, 26 Seconds
40 by 40
My current goal is to run 40 half marathons before I turn 40 years old. To date I have completed 36 half-marathons, so I'm almost there!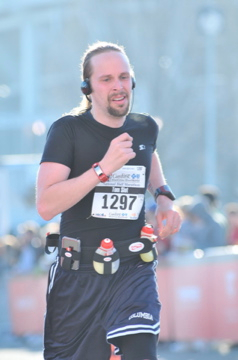 "In running, it doesn't matter whether you come in first, in the middle of the pack, or last.
Y ou can say, 'I have finished.' There is a lot of satisfaction in that."
- Fred Lebow, New York City Marathon co-founder
The Top 10 Heartfelt Benefits of Running
By Thomas Pappas, M.D.
Director, Cardiac Catheterization Lab,
St. Francis Hospital, The Heart Center®
Recent research shows that running:

Improves your overall cholesterol level by lowering triglycerides and raising HDL ("good cholesterol")
Is excellent for weight management because it increases muscle mass and burns calories
Improves blood sugar control in diabetic patients (or borderline diabetics)
Helps decrease blood pressure
Lowers stress by reducing tension, anxiety, and depression
Prolongs life and lowers the risk of death from heart disease
Improves blood supply to the heart in patients with pre-existing heart disease
Helps prevent osteoporosis
Provides protection against breast and prostate cancer
Helps to prevent or delay onset of dementia
Preparing for Your Next Run: 8 Heart Healthy Tips

Aim for running 75 minutes per week (which is considered vigorous intensity cardiovascular exercise)
If you can't run, aim for 150 minutes per week of brisk walking (which is considered moderate intensity cardiovascular exercise)
Make sure to warm up and stretch at least 5-10 minutes before each run
Cool down for 5 minutes with lower-level aerobic exercise after your run to minimize muscle cramps and drops in blood pressure 
Add resistance training (weights, exercise bands, or machines) at least twice per week to balance your fitness level
Hydrate during and after exercise
If you have diabetes, hypertension, or other risk factors for heart disease, speak with your healthcare provider about a possible stress test before beginning a running program
Make running part of your life. Enjoy it!